THANKS TO elizabeth frederick AT 
 

booksatwisteria

FOR CURATING THIS WONDERFUL "POE" THEMED TREASURY.  Elizabeth did a really great job with this Treasury.  So hop over to her shop and check out many of her vintage books collection.  And Thank you Elizabeth for including my "Poe" themed Cameos Collection: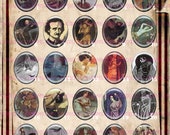 'Poe' by elizabethfrederick5
His mystery is as fresh today as when he wrote .Check out these great shops.




Church steeple on a clo...




Restoration120...

$20.00




Tales of Edgar Allen Po...




ShuuShuubyLulu

$45.99




All That We See Is But ...




ClosetGeekPrin...

$10.00




Edgar Allen Poe: Neat A...




WordsPrintedan...

$25.00




Edgar Allen Poe Famous ...




KindredImages

$12.00




1978 like new PB of Edg...




DAILEYSHOPPER

$6.00




Black Crow Feeding Vari...




Ketzelphotogra...

$15.00




The Raven Edgar Allen P...




theGorgonist

$20.00




Edgar Allen Poe The Rav...




AnInspiredImag...

$19.95




Edgar Allen Poe - Vince...




genemachine

$10.00




Magnet- The Pit and the...




CrossEyedCatGi...

$3.00




25 pcs. 30x40mm Edgar A...




$22.95




Raven Edgar Allen Poe T...




PhotoReverie

$30.00




Edgar Allen Poe tiny bo...




DapperChick

$9.99




Vintage Poetry Book, An...




PaperWoodVinta...

$18.00




Poems of Edgar Allan Po...




2BEVINTAGE

$90.00